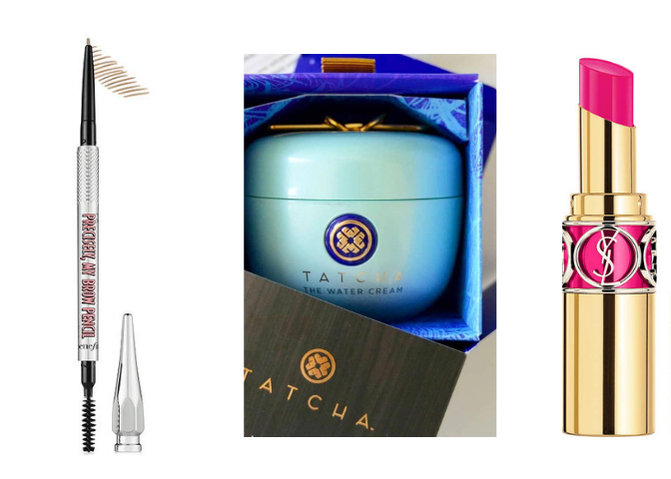 Happy Wedding Wednesday beauties!
Today I want to share three products that are must-haves for my bridal kit. I selected three products I can use no matter what skin type or complexion I'm servicing.
1. I have bought brow products from every high-end brand on the market from Mac to Dior. Some brow products that used to be staples in my kit, like Mac's brow pencil in Spiked, have failed me after a while. My favorite brow pencil began to break every time I pressed it into a client's skin, so I searched high and low to find a substitute for my beloved Mac brow pencil. One day while shopping at Ulta, I stumbled upon Benefit's Precisely, My Brow and my brow game changed!!! This brow pencil works for me because my clients and I are into more of a natural hair-like brow where you can see hair and not pencil lines and strokes. Eyebrows on fleek may be in fashion for some people, but a natural fluffy brow is classic!! Precisely, My Brow comes in 6 colors. Give it a try, ladies!
2. Tatcha The Water Cream!!!! I use at least 3-5 different moisturizers in my kit for different skin types, but I can use Tatcha Water Cream on ANYONE!!! This water-based moisturizer adds a burst of hydration to Normal, Oily, Combination, and Sensitive Skin. If someone has dehydrated skin, I can still use this, but I would mix it with an emollient moisturizer. The Water Cream is excellent at smoothing pores and creating a flat surface for foundation to lay on top of. If you are a person concerned about Sulfates, Parabens, or Formaldehyde in skincare products, I am delighted to tell you that this product is listed under the "Clean" brands at Sephora. The "Clean" brands exclude all the harmful fillers and other junk found in most skincare products.
3. Yves Saint Laurent Rouge Volupté Shine Oil-In-Stick Lipstick is AMAZING!!! I consider this formula to be a hybrid between a lipstick and a lipgloss. It feels soft and silky, it smells incredible, and the color payoff is just right! I know a lot of grooms hate kissing their bride with sticky lipsticks and glosses, but he'll love the smell and feel of this one! Of course, he'll want to wipe off any color residue so make sure his hanky is close by! This formula comes in 31 colors so you'll be able to find the perfect color for your big day!
Let me know if you try any of the products mentioned above!
Enjoy this beautiful Wedding Wednesday!!
xoxo Danielle Rochon